Convert any movie to your iPhone, iPod and iPad the easy way!
What's New?
» Wednesday 16 January 2013 at 03:59:
Hello Movies2iPhone users! :-)

I'm releasing today Movies2iPhone 2.14. It took me more time than expected but this new version is a significant upgrade.

Indeed, I have included the latest version of ffmpeg, which provides Movies2iPhone with an even wider range of compatible video formats and significant conversion speed improvements (30 to 400% depending on the video being converted)!
I was also reported compatibility problems for some MacOSX 10.7 (Lion) users. This should now be fixed.

Last but not least, let me use the occasion to wish you all the Very Best for 2013!

Olivier
The latest version is 2.14
» Download «
downloads and counting
---
What is Movies2iPhone?
The iPhones, iPods and iPads are wonderful devices. However when it comes to play videos they turn out to be very picky.
Indeed, these Apple products only accept to play movies encoded in a very specific format: the so called mp4 format.
Movies2iPhone converts any video (Divx, Xvid, avi, mpeg, wmv, asf, mov, vob, flv (flash), 3gp, mkv, etc...) to a format optimized for your iPhone, iPod or iPad.
It is extremely easy to use, free for non-commercial use and does NOT require your iPhone/iPod/iPad to be "JailBroken".
Movies2iPhone currently runs under Windows Xp, Vista, Seven (32 & 64 bits) and Mac OSX Leopard (10.5), Snow Leopard (10.6), Lion (10.7) and Mountain Lion (10.8).
Movies2iPhone currently support the following iDevices:
All iPhone flavors: original iPhone (2g), iPhone 3g/3gs, iPhone 4/4s and the latest iPhone 5
All iPad flavors: original iPad, iPad Retina (HD) and the iPad Mini
All iPod touch flavors: original iPod touch, iPod touch 4 and iPod 5th generation
Here are a few screencaps: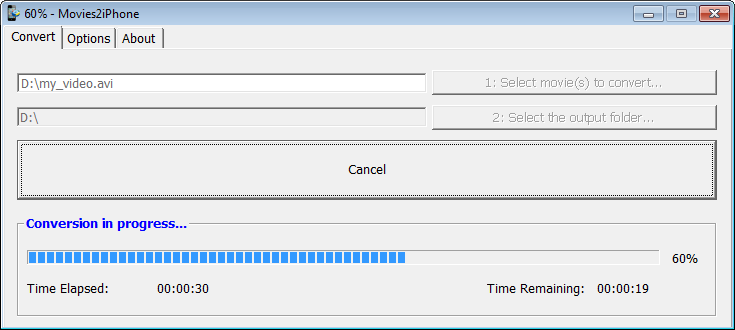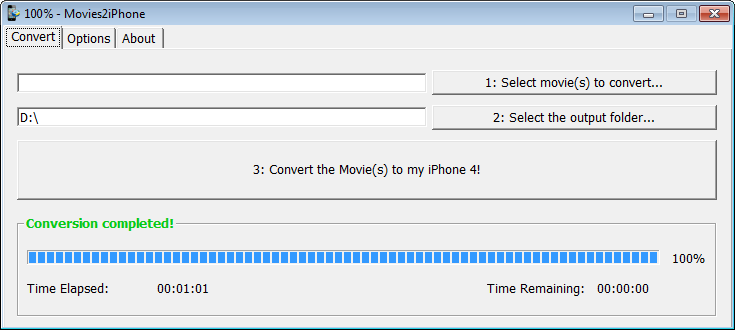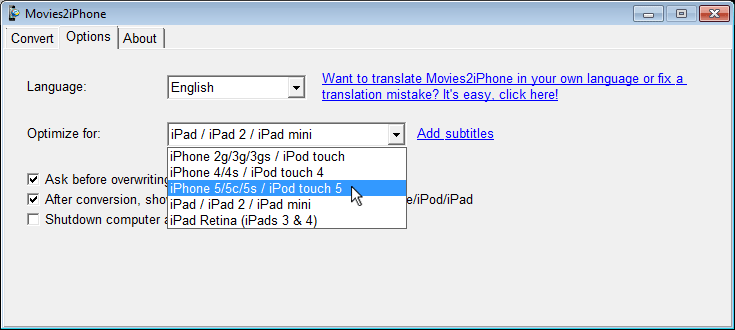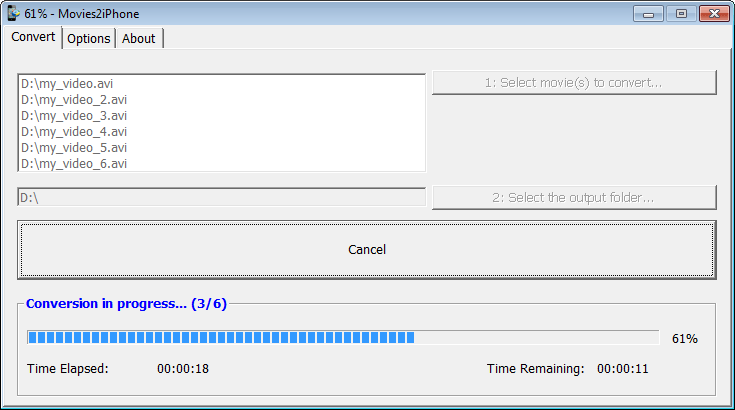 How does it work?
Movies2iPhone uses FFmpeg.
FFmpeg is a fantastic command line program that can record, convert and stream digital audio and video in a wide range of formats.
In particular, it can convert most video format in the mp4 format. A video format compatible with the iPhone, iPod and iPad.
But since it is command line driven and uses an enormous amount of configuration parameters, it is prety hard to use.
Movies2iPhone acts as a front end for FFmpeg, it creates an easy to use graphical interface for FFmpeg, dedictated to one single task: Converting videos to the iPhone/iPod/iPad format.
FFmpeg is a trademark of Fabrice Bellard, originator of the FFmpeg project.
FFmpeg is licensed under the GNU Lesser General Public License (LGPL).
Movies2iPhone is not associated with the FFmpeg project.
Movies2iPhone also uses MP4Box to handle subtitles.
MP4Box is licensed under the GNU Lesser General Public License (LGPL).
Movies2iPhone is not associated with the MP4Box project.
Some useful tutorials:
Here are two tutorials that I have written to help you make successful conversions:
Bug reports and improvements ideas:
Feel free to contact me.
Hosted by
©2008-2013 OKprods Ltd